i still can't take the memory of yesterday's incident out of my head. of course, i have my own list of suspects, and today, it's justified. what was that person thinking, trying to do something like that. it's not like i can't see through you. after all, i
am an extremely observant
person. i guess i unconsciously read your every action, words, and even
grammar
before, Mr.@ Mrs. Culprit. i just can't swallow the fact that the person refused to be straight with me. it's not like i'll tear you into pieces or what. i'm a professional okayyy. rrrrright, now i think i'm being self-centered. let's put an end to this. -end-
............... yooooooogaaaaaa, kena chillex sikit
i should add this to my Hopeful List - take anger management class.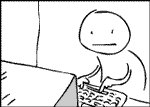 exam's only a day away and i'm still here, pouring my frustration into cyberspace and floating in my own world. don't diagnose me as having acute cyberspace addiction, k. i'm looking for other forms of entertainment. so far, drawing has been scoring quite high, but i'm not sure what exactly should i do with all the drawings. now i'm wasting 'paperspace'.


computer games used to be my addiction. i want to play dota despite being a noobling in that (hanya matrics geng sanggup layan lol), but haven't installed it yet (computer reformatted) and i don't have the 'stimulus' to buy it in KELANTAN after being cheated 3 times. i want to play NFS, but already bored with that, and guess what... despite favouring games with great graphic, i get nausea easily after playing them approx. 2 hours (i wonder why. motion sickness maybe). i remember vomiting after playing NFS career mode for nearly 5 hours once. how embarrassing. i want to play GTA, but the excuse of not doing so is the same as that of dota. finally, i'm left with pathetic flash games. man, that's sad.
wish me all the best for exams owkay. i'd like to thank you in advance.
talking about thanking in advance, did you notice the signboards nowadays? eg. "Terima kasih kerana tidak merokok" or maybe, "Terima kasih kerana mengikut peraturan yang ditetapkan". hhahaha, gila psychology! hopefully the Ketua Aras will put up a sign in the toilet saying, "Terima kasih kerana tidak mematahkan penutup jamban" or "Terima kasih kerana tidak lupa untuk pam jamban selepas memakai" or mayyybe "Terima kasih kerana tidak mencampak penutup jamban ke atas lantai".